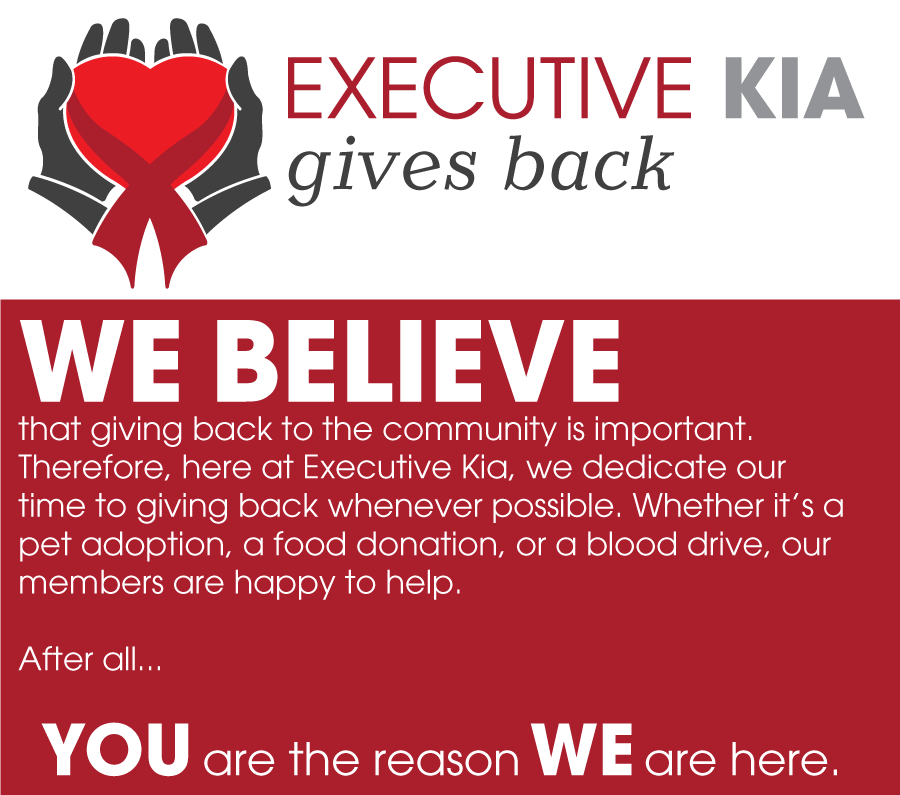 A BIT OF AN ORIGIN STORY
It all started with a snack bar. Back in 2007, an employee asked for help to raise money for his hometown's Relay for Life. A snack bar was formed, first starting with a single basket, but soon growing into a full counter and an expanded inventory; from chips and candy, to small meals like soup and oatmeal. After the Relay for Life ended, however, the snack bar stayed on and continued to grow into what it is today.
Since 2007, Executive Kia
continues
 to give back, participating and sponsoring in local community and charitable events. Since that first basket, Executive Kia has been involved in numerous causes and events, including: 
The Boy's and Girl's Club of Meriden
Meriden Humane Society
CT Food Bank
Girl's Inc. of Meriden and Wallingford
the local MADD organization
CT Cancer Association
US Pain Foundation of CT
Oxford Special Olympics
Toys for Tots
That is only to name only a few. This page is dedicated toward the current and future community involvement that Executive Kia is involved in. Below will be listed those events, as well as details for those interested in participating in any future events. 

GIRLS INC. OF MERIDEN & WALLINGFORD
Girls Inc. is a non-profit organization that makes its goal to inspire and educate all girls to be strong, smart, and bold. Particularly serving the youth in high-risk, underserved areas, the program seeks to help prepare girls in becoming successful and independent, and for them to lead more fulfilling lives.
WALLINGFORD YOUTH FOOTBALL
Executive Kia is currently getting involved with Wallingford Football, donating to help fund the league. With that bit of extra help, the kids will be able to make the most out of this sports season.
 
---
10 YEARS ANNIVERSARY EVENT
December 4th, 2015


10 YEARS
IS A BIG DEAL

From September to December 2015, Executive Kia reached out to its community in order to throw its biggest party yet. 10 Years is a big deal, so the grand prize had to be just as big-a brand new 2015 Kia Optima. With the help of many, Executive Kia managed to greet 10 years in true style.